Nguyen Hue, Ho Chi Minh based Back of the Bike Tours recently published an informative travel guide listing the most epic things to do in the vibrant city of Ho Chi Minh, Vietnam. The article, which can be read at https://backofthebiketours.com/ho-chi-minh-city/things-to-do/, covers the top places to visit, dine, play, and shop while visiting Vietnam's biggest metropolis.
Ho Chi Minh (often referred to as Saigon) is a historic and bustling city in the southern part of Vietnam with a population of approximately 8.9 million. The city is home to a number of old western-style buildings that have now turned into tourist attractions. This includes the famous Notre-Dame Cathedral, which was made entirely of materials imported from France, and the 19th-century Central Post Office. The Notre-Dame Cathedral Basilica of Saigon, officially known as Cathedral Basilica of Our Lady of The Immaculate Conception, is located in Ho Chi Min's downtown area. The church was built during the 1800s and is regarded as one of the finest gems of French architecture. Its interior space showcases 12 gigantic pillars that are perfectly lined up within the two sides of the hall while its exterior facade was built from Marseille-originated red bricks with a stunning clock that was brought from Switzerland in 1887.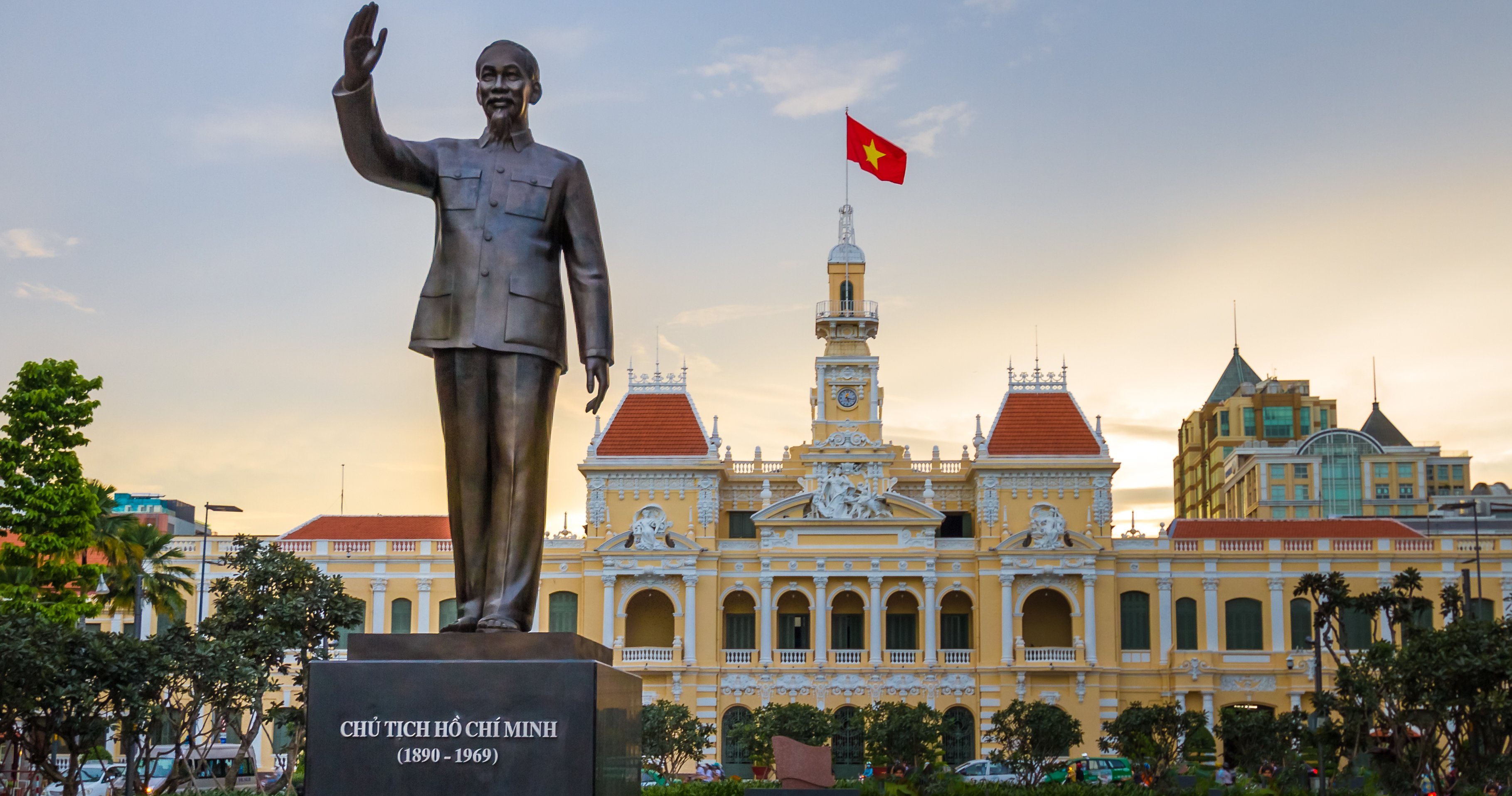 Saigon's Central Post Office is a perfect combination of renaissance style and gothic architecture. The building was constructed in 1891 when Vietnam was still a part of French Indochina. Its has a huge arched roof that features two grand hand-painted maps, which illustrate the old Saigon environment and telegraphic lines in the Southern Indochina. The post office, though aged, is still serving its intended purpose (with foreign exchange available at a fair rate along with postcards and souvenirs for visitors who happen to stop by). Another notable place of interest is the Opera House, which was designed by the renowned French architect, Eugene Ferret. It was a monumental masterpiece once dedicated to the French colonists and VIP key figures. The building was repurposed after 1956, becoming the Lower House assembly of South Vietnam, and was later returned to a theater after 1975. The À Ố Show by Lune Production is the most talked-about event among many big shows and concerts held weekly at the Opera House. Tourists can easily claim their seats for the shows through an agency or the front desk at the front of the building. Surrounding the Opera House is a chain of luxury brand stores, 5-star hotels, and souvenir shops.
Ho Chi Minh City is also famous for its local cuisine, which is a fusion of traditional Vietnamese and French cuisine. Local foods are fragrant and full of flavor. With steaming chicken noodle soups, crispy spring rolls, pancakes, and even coffee, Ho Chi Minh is a foodie's paradise. One of the most popular Vietnamese dish is pho, a noodle soup dish that is made with rice noodles, broth, and fresh herbs. It is available in either chicken or beef flavor—and is a must-try food when in Vietnam. Another tasty dish is called Bun Cha, which is a mix of barbecued pork, noodles, fish sauce, papaya, carrots, and fresh herbs. The dish is often referred to as Obama noodles because former Pres. Barack Obama visited Vietnam and ate the dish in 2016. Ho Chi Minh has a wide variety of other tasty local delicacies, including Bahn Mi, Bahn Cuon, Goi Cuon, Che, and more.
Ho Chi Minh is more than just a historic city, for it is a place that appeals to all types of tourists and travellers. It has a very colourful nightlife and is home to some of the top-rated bars and nightclubs in all of Vietnam. The city attracts millions of tourists each year because it is a destination that boasts affordability, friendly people, rich culinary scene, beautiful natural resources, and so on. Ho Chi Minh is also very accessible from its neighboring South East Asian countries.
"If you are travelling to Vietnam and looking for the best tour recommendations, please do not hesitate to contact Back of the Bike Tours. We offer some of the most epic Ho Chi Minh tours, covering all the best things to do in the city and the surrounding areas. We believe that our tour itinerary offers a complete experience to those who are looking for an authentic Vietnamese experience," says Frederick Wilson from Back of the Bike Tours.
Complete details can be found on the tour organizer's website, where they regularly publish informative travel tips and guides. Alternatively, interested parties may connect with Back of the Bike Tours through their official social media pages to stay abreast of their latest news and important announcements
{
"@context": "http://www.schema.org",
"@type": "LocalBusiness",
"name": "Back of the Bike Tours – Ho Chi Minh Food and City Tours",
"@id": "https://www.pressadvantage.com/organization/back-of-the-bike-tours",
"url": " https://backofthebiketours.com",
"sameAs": [
"https://backofthebiketours.business.site/",
"https://hochiminhcitytours.s3-ap-southeast-1.amazonaws.com/index.html",
"https://www.pressadvantage.com/organization/back-of-the-bike-tours",
"https://sites.google.com/site/hochiminhcitytoursvietnam/",
"https://www.youtube.com/user/backofthebiketours/about",
"https://backofthebiketours.blogspot.com/",
"https://backofthebiketours.travel.blog/",
"https://backofthebiketours.weebly.com/",
"https://about.me/backofthebiketours",
"https://en.gravatar.com/backofthebiketour",
"https://backofthebiketours.tumblr.com/",
"https://medium.com/@backofthebiketours",
"https://www.tripadvisor.com/Attraction_Review-g293925-d2264651-Reviews-Back_of_the_Bike_Tours-Ho_Chi_Minh_City.html",
"https://www.tripadvisor.com/AttractionProductReview-g293925-d15563645-A_Taste_of_Vietnam-Ho_Chi_Minh_City.html",
"https://www.pearltrees.com/hochiminhfoodandcitytours"
],
"logo": " https://business.google.com/photos/l/16798139533244959510?hl=en",
"image": "https://business.google.com/photos/l/16798139533244959510?hl=en",
"description": "HO CHI MINH CITY TOURS Tours are an excellent way to explore a new country or city while travelling. If you are looking to save time while on your vacation so you can see as much as possible in a short amount of time, a City or Sightseeing Tour is a perfect solution. Like us, if you love to explore the hidden parts of a city with local experts who can show you local life then a Ho Chi Minh Tour is right up your alley. Many companies offer a tour experience that can feel a little bit too cookie cutter and one size fits all. At the Back of the Bike Tours, we believe in a personal experience that is catered to all of our guests individually. There are a few tour options that can be explored when travelling through Vietnam. We specialize in private tour experiences and motorbike group tours that we believe give travelers the best customer service they can hope for. On our tours we never use locations that provide our guides with commission but only focus on authentic landmarks and locations that provide real value for our guests.",
"address": {
"@type": "PostalAddress",
"streetAddress": "68 Nguyen Hue",
"addressLocality": "Ho Chi Minh City",
"addressRegion": "Ho Chi Minh",
"postalCode": "700000",
"addressCountry": "Vietnam",
"telephone": "+84935046910"
},
"geo": {
"@type": "GeoCoordinates",
"latitude": "10.7750613",
"longitude": "106.701682"
},
"hasMap": "https://goo.gl/maps/7tCsZUfZX4Wu29Qq8",
"paymentAccepted": "Cash,Check,Credit Card",
"openingHoursSpecification": [
[{
"@type": "OpeningHoursSpecification",
"dayOfWeek": [
"Monday"
],
"opens": "00:00 am",
"closes": "11:59 pm"
},{
"@type": "OpeningHoursSpecification",
"dayOfWeek": [
"Tuesday"
],
"opens": "00:00 am",
"closes": "11:59 pm"
},{
"@type": "OpeningHoursSpecification",
"dayOfWeek": [
"Wednesday"
],
"opens": "00:00 am",
"closes": "11:59 pm"
},{
"@type": "OpeningHoursSpecification",
"dayOfWeek": [
"Thursday"
],
"opens": "00:00 am",
"closes": "11:59 pm"
},{
"@type": "OpeningHoursSpecification",
"dayOfWeek": [
"Friday"
],
"opens": "00:00 am",
"closes": "11:59 pm"
},{
"@type": "OpeningHoursSpecification",
"dayOfWeek": [
"Saturday"
],
"opens": "00:00 am",
"closes": "11:59 pm"
},{
"@type": "OpeningHoursSpecification",
"dayOfWeek": [
"Sunday"
],
"opens": "00:00 am",
"closes": "11:59 pm"
}]
],
"priceRange": "Varies"
}
Tour Organizer Publishes A Comprehensive List Of Things To Do In Ho Chi Minh City was originally published here https://www.pressadvantage.com/story/33402-tour-organizer-publishes-a-comprehensive-list-of-things-to-do-in-ho-chi-minh-city