Parents who travel with children are superheroes. There are many people in the world who find traveling fun but stressful, with children, that stress can be tenfold. So our hats off to the globe-trotting parents across the world who are smashing the idea, "You can't travel with children", to smithereens.
We know that sightseeing, walking, and more adult-oriented activities can get exhausting for children and move them into the cranky zone.
The good news is, Ho Chi Minh City has been turned into a more kid-friendly destination recently. Our team put together the best child-oriented activities for parents looking to cater to the little ones. Read on to find out our recommendations on places that both children and parents can find fun and entertaining during your holiday.
Golden Dragon Water Puppet Theater
How about putting your family holiday under the theme of original Vietnam for your kids to have some brand new experiences? Golden Dragon Water Puppet Theater is where you can find one of the best original Vietnamese experiences.
The origin of the water puppetry art rooted over 1000 years ago in Vietnam. After a millennium, this kind of traditional stage art is now preserved mainly for its cultural values and tourism purposes. Golden Dragon Water Puppet Theater is one of the few puppet theaters across Vietnam that brings you the most authentic water puppet shows.
Traditional music, excellent stage props and costumes, and the atmosphere there are what will make your first time with water puppet unforgettable. Although all the shows are presented in Vietnamese, language is not a barrier for you and even your kids at all. This is more of a visual experience than just the ears. Surely you will be able to catch up with the main theme of the show, which is mainly about folk stories.
At the moment, there are 2 daily shows available at Golden Dragon Theater, one at 5 p.m and the other at 6:30 p.m. In order to get the perfect view, I would suggest you book your tickets in advance, especially when you are traveling with your family. You can easily book your tickets with the hotel's receptionist. You can also buy the tickets before the show starts around 30 minutes at the ticket booth next to the theater.
Address: 55B Nguyen Thi Minh Khai St., Ben Thanh Ward, District 1, Ho Chi Minh City.
Website: http://thanglongwaterpuppet.org/
Ticket price: 5 USD – 10 USD/ticket depending on your seat
Age group: Suitable for children of all ages
Arcade Games at Games World – Vincom B Shopping Mall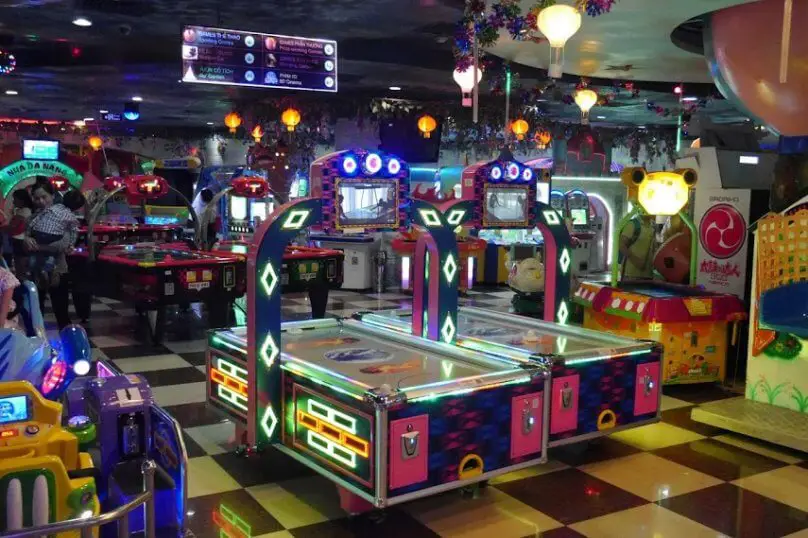 Oldie but goldie, that's arcade games! Located in most malls around Ho Chi Minh City, Games World is where kids can take a break and let loose in the various malls around the city. There are several activities at the arcade such as basketball hoops, air hockey, bumper cars, video games, and bowling alleys. Vietnam is a little bit behind in newer, well-known arcade games, so we would go in with an open mind but we believe the games are suitable for most kids 9 and under.
Ass arcade centers are usually located in big shopping malls, there are also food courts, restaurants, ice cream shops, and bubble tea shops if you fancy lunch or dinner.
After having fun and filling up the stomach, how about watching a movie together with your family? The CGV Cinema – one of the largest cinema chains in Vietnam – is located in most major malls. You can easily find a suitable movie for every family member in English there as it always has the latest on-screen movies. Catching a movie can be a nice break from the heat of Saigon for kids, and the price of a movie is very affordable in comparison to most other countries.
Address:
B2 Vincom Center – 72 Le Thanh Ton Street, Ben Nghe Ward, District 1, Ho Chi Minh City
Diamond Plaza – 34 Le Duan Street, Ben Nghe Ward, District 1, Ho Chi Minh City
Aeon Mall Tan Phu Celadon, 30 Bo Bao Tan Thang street, Son Ky Ward, Tan Phu District, Ho Chi Minh City
Artinus 3D Art Museum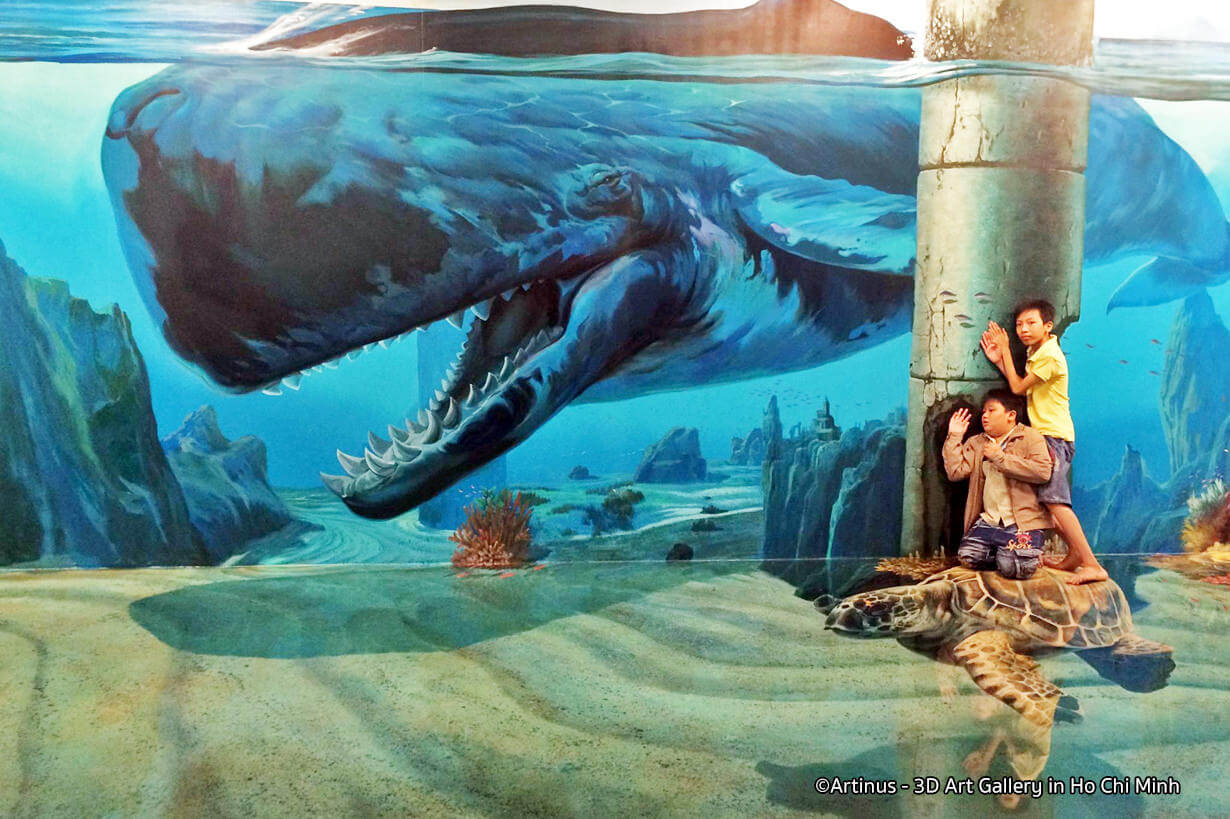 Let your kids enter a new world and be a part of some stunning 3D scenes at Artinus 3D Art Museum.
Artinus is the first and largest 3D art museum in Vietnam. The museum features over 100 3D paintings, which are created by professional Korean artists. Artinus Museum is divided into 9 sections with 9 different themes that are suitable for a wide range of ages. Vietnamese inspirations like the ao dai, fishing boats, and famous destinations such as Hoi An, Ha Long Bay or Hoan Kiem Lake are the main themes of the exhibition. World's landmarks are also featured with the combination of dragons, dinosaurs, fairies, etc., giving kids the chance to travel back in time and around the world.
The most exciting part of visiting such a 3D museum is the great photos you can take. As all of the paintings are created especially for visitors to step in, get ready for lots of fun pictures! Getting trapped in the running away from dinosaurs in Jurassic World or falling out of a boat into the water are some creative poses that your kids will love at the Museum.
Address: 02-04, Street No.9, Tan Hung Ward, District 7, Ho Chi Minh City
Tel: 028 6298 3767
Entrance fee: 9 USD/ticket on weekdays and 11 USD/ticket on weekends & holidays; free entrance fee for children under 90 centimeters
Opening hours: From 9 a.m – 6 p.m on weekdays; From 9 a.m – 8 p.m on weekends and holidays
Age group: Suitable for children of all ages
Book Street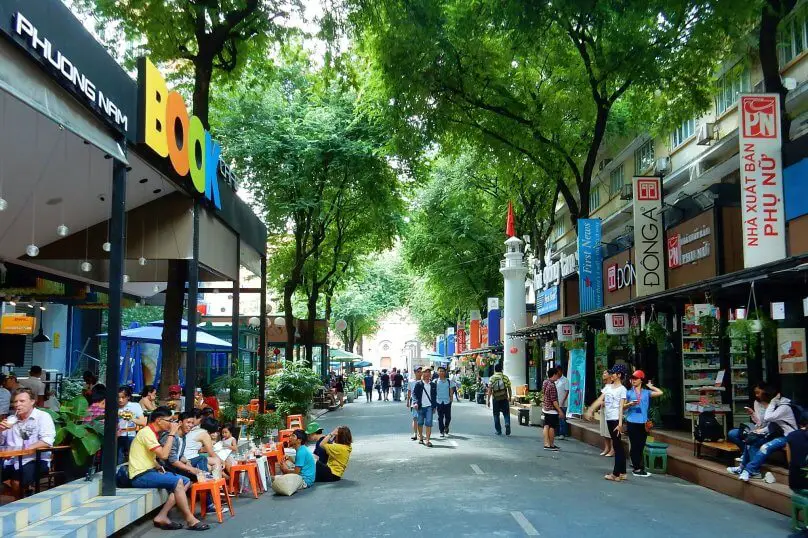 This street is a little peaceful space in the busiest city in Vietnam – Dang Van Binh Book Street! More than just a quick stop, the Book Street is a worthwhile use of your time during the holiday in Vietnam.
This place is highly recommended for families to hang out as every member can find a book they are looking for during their trip. There are comics, children's books, and toys, available for your kids. For adults, you will probably find your favorite books there as almost all big Vietnamese publishing houses have their stalls on this street. English, French and Chinese books are very popular on the street, so you can usually find something in your language that you can enjoy during your trip. There are some stores specializing in old books where you can look for older novels at a great price!
With some nice coffee shops located right on this street and surrounding shopping malls, you can easily plan a multi-stop route. Some nearby suggestions for you are McDonald's Café, Phuong Nam Book Cafe, Vincom Center, and Diamond Plaza.
Address: Dang Van Binh Street, Ben Nghe Ward, District 1, HCMC
Opening hours: 8 a.m – 10 p.m daily
Entrance fee: 4-5 USD/person
Age group: Suitable for children of all ages
Cu Chi Tunnels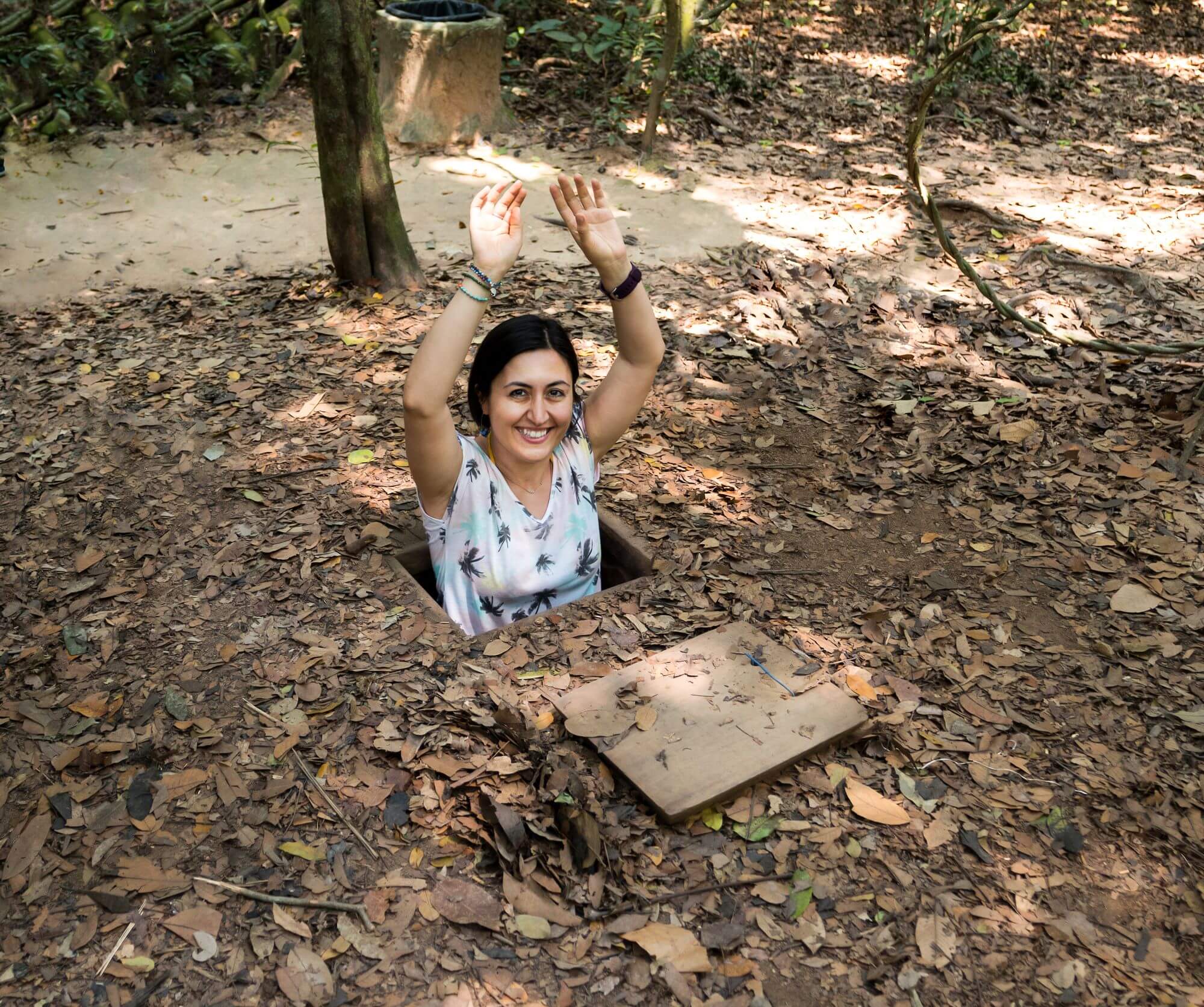 While most adults are going to be intrigued by the history and life of the Viet Cong during their trip to the Cu Chi Tunnels, some children might enjoy getting a bit out into the jungle to take a short trip through the tunnels. If you are concerned about crawling around in the tunnels, the actual part you crawl through is very short and shouldn't worry you. They are also the perfect size for kids to take a short underground trip.
Most likely more interesting for little boys than girls, the War Remnants also has displays of the weapons used during the war including various rifles, bomb fragments, and tank remains where you can climb and take a photo.
Some adults can enjoy holding a real AK-47, adjusting the scope, and firing, at the onsite gun range. If you want to take your trip up a notch with an absolutely awesome speedboat ride to the tunnels, check out our Cu Chi Tunnels tour. The trip 2-hour bus/car ride to the tunnels might just be a boring nightmare for both children and adults, but on a speedboat, no one is bored!
Address: Provincial Road no.15, Phu Hiep, Cu Chi, HCMC
Opening hours: 7 a.m – 5 p.m daily
Entrance fee: 4-5 USD/person
Age group: Suitable for children over 11 years old
Tipsy Art Workshop
How about awakening the artistic soul inside your kids and yourself with a painting workshop at Tipsy Art? If you have absolutely no skills in painting, that's perfect! Your family will find 3 joyful hours and lots of fun while enjoying a new experience in a different country.
Tipsy Art is well-known for taking the lead in popularizing art workshops in Saigon. Their Workshop locations are one of the unique things that differentiate Tipsy Art with others. Their workshops usually take place at coffee shops and co-working spaces with relaxing music and joyful vibes that are comfortable for children.
Here at the Tipsy Art painting workshop, your kids will have the chance to create their best piece of art on their own. Even though this may be their very first time taking on a painting brush, Tipsy Art's dedicated facilitators are always there to help. A workshop ticket includes a 3-hour painting session, a free drink, and your own work! Imagine how excited your little cuties will be about taking their product home as a souvenir from their trip to Vietnam.
Address: As the workshop location changes regularly, you will be informed about the address after registering
Website: https://tipsyart.vn/
Ticket price: 18 USD/participant/painting
Age group: Suitable for children from 3 years old
Landmark 81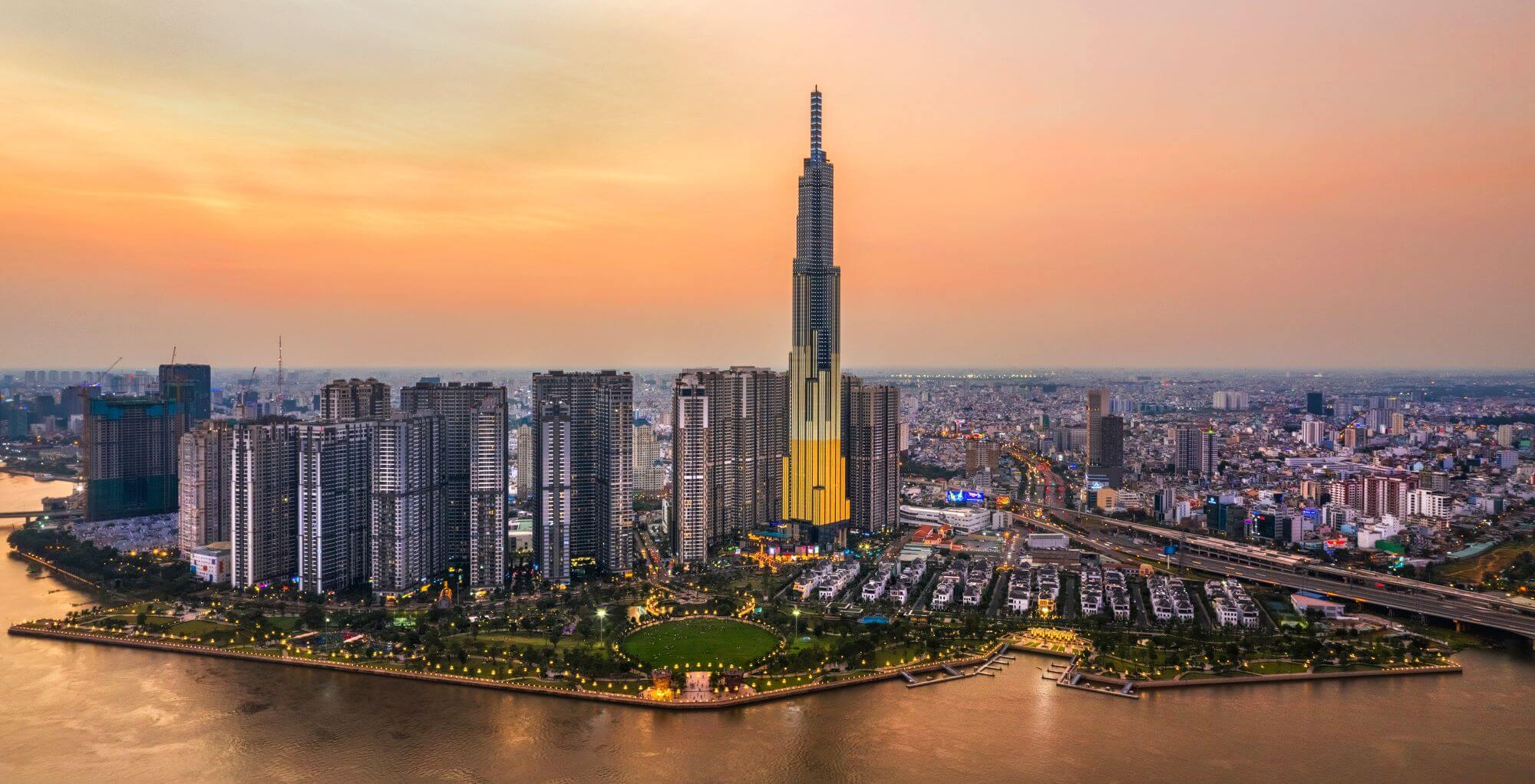 Being named as the tallest skyscraper in Vietnam has named Landmark 81 in the list of must-visit destinations in Ho Chi Minh. Landmark 81 houses a diverse selection of activities for both kids and adults, from entertainment to high-end shopping experience.
Located in Vinhomes residential, Landmark 81 is surrounded by a large stunning park with a small playground for your kids to play around. Besides that, the most significant stop for your kids when visiting Landmark 81 is Vincom Ice Rink. This is the first and the only naturally frozen ice rink across Vietnam. With a wide range of activities and fantastic performances, Vincom Ice Rink is the perfect fit for your family to cool down a scorching day ịn Saigon.
Getting inside the building, there are tons of shops and places for your family to have fun. On top of Landmark 81 is the Landmark Skyview where your kids have a chance to explore the sky from a fabulous angle – the highest point of the city! You can also find a fancy coffee shop called MIWAKU that serves excellent Japanese food and drinks.
Address: Landmark 81, 772 Dien Bien Phu, Ward 22, Binh Thanh District, HCMC
Age group: Suitable for children of all ages
Vàng Pottery Workshop
Craft activities are fun and children love them! There are few things that can get children engaged as willingly as hands-on crafts! Let them play with their creativity and shape their own product with a hand-on pottery workshop at Vàng Pottery.
Vàng Pottery's workshops are held at River Side Cottage, which gives everyone a perfect and relaxing view by the river. You will be guided through the process of clay, glaze, and firing by dedicated ceramics professionals. Even if you're a little clumsy for this kind of art, the workshop will fill your day with fun, smiles, and the enjoyable smell of clay.
As the number of participants is limited, you will need to book your workshop in advance with Vàng Pottery. Each workshop lasts around 2.5 hours. There are various topics for you to choose from, such as carving & painting, slab building, or making Vietnamese mask puzzles.
Address: Workshop is organized at The River Cottage, 18 Lane 6, Thao Dien Ward, District 2, HCMC
Contact: Booking your workshop via email at vangpotterystudio@gmail.com
Ticket fee: 24 USD/participant
Age group: Suitable for children from 7 years old
Floral Workshop at Ted & Anna Flower Shop
Another engaging and active workshop for your kids to join from our list is floral workshops from Ted & Anna. Gorgeous flower arrangements form these workshops will bloom your day!
Unlike other workshop organizers, Ted & Anna feature seasonal floral workshops. This means you will only get the best flowers available at each workshop. Another unique thing about Ted & Anna's workshops is their topics. They are not solely meant to be all about flowers. They are combined with well-chosen themes such as flowers & cooking or flowers & beauty. They also have exclusive workshops for kids on special occasions like the International Children's Day.
Please notice that all of these workshops are seasonal, you have to contact them in advance for detailed information on their current workshop selections.
Address: 63 Xuan Thuy, Thao Dien Ward, District 2, HCMC
Booking Contact: 090 493 91 99 or via email at tedanna.hoanhata@gmail.com
Ticket price: 13 – 40 USD/participant
Age group: Suitable for children from 8 years old
The Snap Cafe & Restaurant
Have you ever got nervous when taking your kids with you to a restaurant or a café? With The Snap Cafe & Restaurant, you and your kids will all have a playful and relaxing time. There is an outdoor playground exclusively for kids with a big sandpit.
The Snap is a western-style restaurant. After the kiddos work up an appetite, then it's time to treat your family with a tasty meal. BBQ, beefsteak, risotto, and spaghetti are some of the best picks for you to try at The Snap.
On Saturday evenings, The Snap usually has free live music performance. You can simply enjoy the music with your family or take the stage and test out your vocal chops!
Address: 32 Tran Ngoc Dien, Thao Dien Ward, District 2, Ho Chi Minh City
Opening hours: 7 a.m – 10 p.m daily
Age group: Suitable for children of all ages
Bee Bee Premium Kids cafe
Here comes another kid-friendly café for your trip – Bee Bee Premium Kids Cafe. If you are looking for a coffee shop that you can enjoy a nice coffee and good steak while capturing the best moments of your kids, this is the answer for you.
Located in District 7, Bee Bee Premium Kids is a coffee shop that provides an indoor playground for kids. The playground is truly a paradise for kids as it is fully equipped with toys. Bee Bee Premium Kids also provides other activities cater for a range of ages and interests such as books, baby pianos, bracelet-making, and statue painting sessions.
More than just a place for kids, Bee Bee Premim's menu is taken seriously with many choices for food. Coffee, ice cream, salads, pasta, sandwiches, and even beer are all available here. Western and Korean food is also served at Bee Bee Premium, giving you and your family more choices for your favorite taste.
Address: F4, 96-98 Cao Trieu Phat, District 7, Ho Chi Minh City
Contact: (028) 3873 4351
Opening hours: 10 a.m – 8 p.m daily; Closed on Tuesdays
Age group: Suitable for children of all ages
Dam Sen Water Park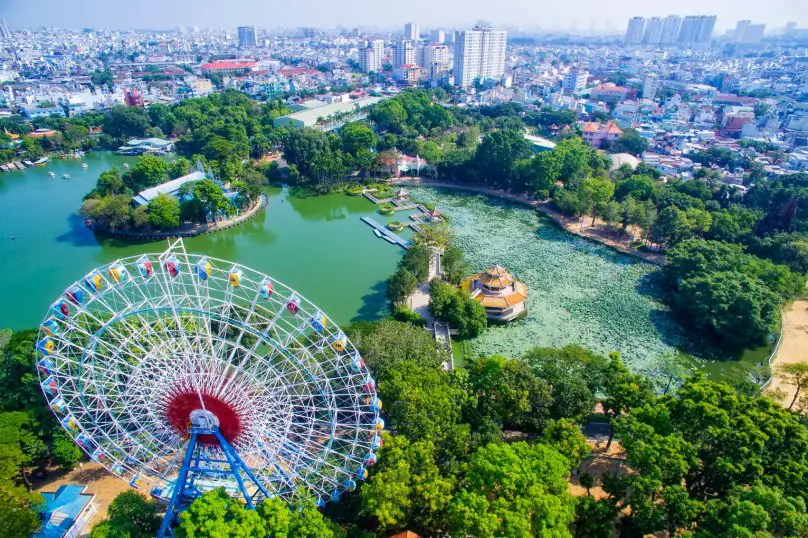 Dam Sen Water Park is our choice for your next destination. Dam Sen Water Park is one of the very first and most favored theme parks in Vietnam.
One of the top reasons that make Dam Sen Park a favorable destination for kids is its variety of amusing activities. There is a big wave pool for your kids to swim freely. If you are looking for more thrilling experiences, then give a try to its high-speed water slides or a Kamikaze ride. Every pool is observed by well-trained staff and guards.
Located right next to this park is Dam Sen Cultural Park, another place for you to spend time with your children. You can find over 30 different types of activities, all are fun and kid-friendly. There is a small zoo, a botanical garden, and a butterfly farm for your kids to learn about flora and fauna. Here is a tip for you: there is a monorail train traveling above the whole park. This is the best idea for you to get an initial overview of the park and see what excites your kids the most!
Address: 3D Hoa Binh, District 11, Ho Chi Minh City
Opening hours: 9 a.m – 6 p.m from Wednesday to Monday
Ticket price: 4 USD/child and 6 USD/adult
Age group: Suitable for children from 5 years old
Motorbike Tour around the city
The best way to unearth the true Vietnam's daily life with your kids is to observe it from the back of a motorbike! As the "Sidewalk culture" is actually a thing in Vietnam, especially in Ho Chi Minh City, a motorbike tour is easier for you to get around the city with your children without worrying about the crowded sidewalks and busy traffic.
Back of the Bike Tours provides you with one of the best motorbike-tour experiences in Vietnam. We have 7 different tours which are kid-friendly designed, including tasty food tours, culture and sightseeing tours, night-life tours, and tours to the further parts of the city such as Cu Chi. Each tour with different colors will bring you the most authentic vibes of Ho Chi Minh City that you cannot find anywhere else.
If you're interested in having one-of-a-kind memories in Saigon with Back of the Bike Tours, book your tour now at:
These 12 destinations are our top picks for your trip with children in Ho Chi Minh. Fill it with endless fun and alluring moments, and don't forget to share with us your incredible trip here!
Source Here: Activities for Children in Ho Chi Minh City: 13 Top Places to Visit with Kids