Imagine haggling for shoes in Ho Chi Minh City, many of you will fantasize about bargaining a great deal in the famous Ben Thanh Market. What if I told you this isn't the best place to get a deal on good quality shoes? I wrote this article to give my readers a better insight on where to actually get quality shoes for a good price. I'll help you dodge the majority of overpriced fakes peddled in the major tourist markets.
Using my expertise as a Vietnamese girl and a shoe fanatic, I'll be showing you where I personally recommend buying shoes, how to inspect for quality and where to strike a bargain on high-quality shoes of all kinds. I'll also discuss pricing so you can avoid overpaying when shopping for shoes in Saigon.
What Should You Know Ho Chi Minh City Shoes Shopping?
The footwear market in Vietnam is huge and diverse. There are many factories in Vietnam and surrounding countries manufacturing Shoes for the rest of the world. Which means travelers worldwide frequently shop for shoes when traveling to a big city in South East Asia. These travellers salivate over the idea of a great pair of brand name shoes for half the price. Here comes the truth…. You cannot find factory rejects in such big and iconic markets like the Ben Thanh Market. The truth is that most shoppers are being duped into buying low quality fakes at a high price. Any well-known shoe brands you see in Ben Thanh Market and Saigon Square are fake.
Without these tips chances are you're going to waste a huge amount of money in return for something that is about to tear apart within a couple of weeks, or even days. Don't make the mistake of expecting high quality at an incredibly cheap price anywhere that is known to cater to only tourists.
Okay, so that was the hard truth that might deflate some dreams of bringing back 12 pairs of legit Nike sneakers to the US for $100. Not all is lost though! I'm gonna give you some great tips on looking for quality shoes in Ho Chi Minh City, even if you are shopping in iconic places like the Ben Thanh Market.
Useful Tips to Identify Good-Quality Shoes
First, let's discuss how to identify good-quality shoes that deserve the amount of money you pay for them. Depending on which kind of shoes you're getting specifically, the criteria may vary. Here are four crucial tips to tell if a shoe is well-made or not.
If The Price Seems too Good to Be True, It is
Who doesn't love a good deal? It's such a rewarding feeling when you walk out of the store in a stunning pair of shoes after paying only a few bucks for them. That initial joy may turn sour after few weeks or even days. Your "victory" will soon break your heart as the heel is falling off or the leather is horribly scratched.
One big tip to avoiding a scam when buying shoes are to look at the price tag. I'm not advising you to buy something that costs a fortune but make sure you raise your eyebrow at a price that seems too good to be true.
In general, a good pair of shoes barely go for under $10 USD. Well-manufactured shoes cost a lot during the making process, from designing, using the right material, seaming, shipping and so on.
If you happen to get an offer of $20 USD for a pair of brand name sneakers in Ben Thanh Market or Saigon Square, you'll know what to do!
The Tags Says it All
Checking the tags sewn on the tongue or side liner is another way to identify the quality of the item you have in your hands. Pay attention to the font, size, and colors of each digit and letter. Are they equally colored? Do they look even from letter to letter? How is it printed or sewn into the shoes?
If a tag is glued carelessly or blurred out, chances are those shoes are not gonna last as long as you would want them to. An authentic, well-made shoe should present its size on the inside or along the sole. If this is missing, I don't recommend purchasing that shoe.
Check on the texture, color, and size
Colors
This may sound like a bizarre qualifier but premium shoes are barely covered with a flashy and flamboyant pigment. A quality shoe will look natural and eye-pleasing to customers. Poor-quality shoes sometimes come in showy colors with fun or random stickers. These shoes are much more likely to become faded and blurred shortly after a little bit of wear and tear.
Stitches
The seaming lines play a big role in telling if the shoes are worth it or not. If you spot out careless stitches that are rough and off-balance, the shoe is probably low-quality.
Don't be afraid to take a closer look at the shoe to try and check for its quality. These types of defects are meant to be hidden and only discoverable to a suspicious and diligent customer.
Form
One of the most essential steps during the making of shoes is that the shoemakers will use their shoe own forms to produce a standard pair of shoes. These mechanical forms provide a shape similar to a human foot. This step ensures people feel comfy and confident in their walk without feeling stiff and painful.
Knowing this clearly will help you identify poor-quality shoes as most of the fakes or low-quality shoes look stiff, coarse, and they apparently don't follow the structure of the human feet.
Take 'Em for a Test Spin
Lastly, before you decide to purchase, make sure you walk around and double check to see how comfy it makes you feel. Sometimes the low quality of a shoe isn't evident until you put it to use.
Shoes Markets in Ho Chi Minh City
Bargaining for shoes in local Markets, or anywhere else for that matter, brings a certain feeling for shopaholic travellers. The intensity of a bargain as you haggle to get a great deal but the seller isn't budging, finally you walk away, but then wait! The dealer suddenly offers their "very best price". In that treasured moment you feel like a champion ready to battle with every vendor in the market.
In this section, I'll introduce the various markets where you may choose to do your haggling battles. Each market will vary so you'll have to understand the market before you jump in and start shopping.
Ben Thanh Market
Ben Thanh Market is large. Spanning over 13,000 square meters with four different entry gates on each side. The footwear section is near the East Gate, which is written as "Cua Dong" in Vietnamese. You can easily navigate there by following Phan Chu Trinh street.
Ben Thanh market is overflowing with fake shoes of all various makes and models from Nike, Doc Martens, Puma, or any other brand you can think of. Keep a cool head, Use our tips about quality shoes to navigate to a vendor offering a decent product. A pair of shoes here should cost around $7 USD to $15 USD depending on its quality.
That will not be the starting price though. This is a tourist market where this vendor has another customer 10 minutes later who will pay way more than a wise shopper like yourself will pay.
Address:  Le Loi Street, Ben Thanh Ward, District 1, Ho Chi Minh City
Opening hours: 7 AM – 7 PM
Saigon Square
Compared to Ben Thanh Market, Saigon Square seems to be a better option for shopping regarding quality and price. This is also a great place to shop for those who don't want to haggle or bargain. All of the prices here are set and most vendors won't bargain.
Saigon Square is home to a massive collection of good-quality shoes made in Vietnam. Many native and Vietnamese from abroad like Saigon Square as their favorite market for shopping for this reason. Keep in mind that you should never expect to find original brand shoes here at a bargain, because any famous brands you see here are fakes. The fakes here should be high quality, and the selling price for them will be much cheaper than what you are told at other famous markets in Ho Chi Minh City.
Addresses:

81 Nam Ky Khoi Nghia Street, District  1, Ho Chi Minh City

176 Hai Ba Trung Street, District 1, Ho Chi Minh City

Opening hours: 9 AM – 9 PM
An Dong Market
An Dong Market is one of the biggest wholesale markets in Saigon. This is an ideal place if you are searching for a good shoe supplier to export or purchase in big quantities for your own retail shop. The shoes you'll find here usually come from Guangzhou, Thailand, South Korea, Cambodia, or Vietnam. Due to such a huge selection of goods, the price range and quality here varies accordingly.
Address: Cong Truong An Dong, Ward 9, District 5, Ho Chi Minh City
Opening hours: 5:30 AM – 8 PM
Binh Tay Market
If Ben Thanh is the biggest retail market in Saigon, Binh Tay is the largest wholesale market. Most of the products here, including shoes are imported from China. They come in various models and types such as sneakers, sports shoes, sandals, flip flops and kids' footwear.
As a wholesale market, buying shoes in small quantity is difficult and more expensive than purchasing wholesale. That's why it's easy to understand that sometimes the sellers refuse to sell when you want to buy shoes in just a small quantity.
Since their goods are only for wholesales buyers. Not every shop is the same, so depending on the vendor, they may or may not agree to sell shoes in small quantities.
Address: 57A Thap Muoi, Ward 2, District 6, Ho Chi Minh City
Opening hours: 6 AM – 7 PM
Russian Market
This is the only place in town where you can guarantee you will find large shoe sizes for both women and men. Most of the other stores in Saigon offer a normal size range for the Vietnamese feet. If you look for a size up to 45 or 49, Russian Market is the one place you should visit.
The merchandise here is mostly made in Vietnam for export to Russia or Europe. Hence, the size of both clothes and shoes are much bigger than typical Vietnamese wear. If you are looking for larger western sizes, then the Russian Market is a great option.
The shopkeepers here are friendly and respectful, so don't worry about being pestered to buy. The opposite of what you will experience at the Ben Thanh Market. Please note that all of the prices here are fixed so haggling is not needed.
In our video, I met a really nice gentlemen with a good shoe store in the market is name is Hoang and is stall is "Shop D35 Lau 1 Cho Nga"
You can call him at 0932828985
Address: 328 Vo Van Kiet Street, Co Giang Ward, District 1, Ho Chi Minh City.
Opening hours: 9 AM – 7 PM.
Shoe Shopping in Ho Chi Minh City Malls
The shopping malls in Vietnam are where you will find multiple famous shoe brands. Some of them include Nike, Stradivarius and Zara. Don't expect to grab a pair of Nike at a cheaper price than the price offered back in your hometown. Brand name shoes in Vietnam are quite expensive if you want the real deal. There are sometimes deals and clearance sales just like everywhere else, so hitting up a shopping mall for a bargain might be a fun treasure hunt for a shoe shopper. Below is a list of shopping malls in Ho Chi Minh City:
 

Saigon Center – 65 Le Loi street, Ben Nghe Ward, District 1, Ho Chi Minh City.

 

Vincom Centre – 72 Le Thanh Ton street, Ben Nghe Ward, District 1, Ho Chi Minh City.

 

Diamond Plaza – 34 Le Duan street, Ben Nghe Ward, District 1, Ho Chi Minh City.

 

Parkson Plaza – 35-45 Le Thanh Ton street, Ben Nghe Ward, District 1, Ho Chi Minh City.

 

Crescent Mall – 101 Ton Dat Tien Street, Tan Phu Ward, District 7, Ho Chi Minh City.

 

Landmark 81 – Vinhomes Tan Cang, Binh Thanh District, Ho Chi Minh City.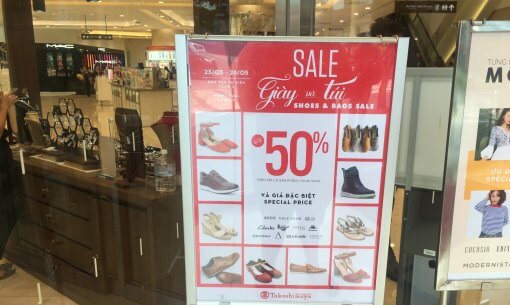 Famous Local Shoe Streets in Ho Chi Minh City
This is a popular option for shopaholic travelers looking for shoes at an affordable price in Saigon apart from the malls and big markets.
Ho Chi Minh City Shoe Streets
Below, I've rounded up 5 big shopping shoe streets where you can find plenty of shoe boutiques. I've narrowed down the approximate addresses for the best places to shop along those streets.
Walking along these streets, you can easily find a wide range of footwear, such as sports shoes, heels, sandals, flip flops, ballerina slippers and many other kinds. These are either domestic brands or imported from Thailand, South Korea, and China.
Even though there are 5 local streets where you can find shoes, the best street for shopping as a traveller that I recommend is Nguyen Dinh Chieu street where you can find almost any kind of shoe you want for a great price.
This street is located right in the city center and you can easily find it. The best shoe stores assemble around Ban Co Market. Almost every shop you see around here is a famous local brand like Juno, Vina Giay or Biti's. They sell mostly girls' footwear in these stores like heels, sandals, ballerina slippers, dockside, boots and flip flops. The price range is roughly from $15 to $30 USD depending on style, brand, and quality.
This street became popular to the white collar local Vietnamese and young women in Saigon thanks to the affordable price, and the variety of footwear for all occasions.
This section is near the backpacker area (Bui Vien – Cong Quynh).
The second shoe street worth mentioning is Nguyen Trai. This street is stretching from District 1 to District 5 but most of the best boutiques gather around the area of Nguyen Trai Hospital. This is a bit far outside of the typical Tourist area.
Luu Van Lang street is located at the right side of Ben Thanh Market. You can reach here from the West Gate of the Ben Thanh Market, which is perpendicular to Phan Boi Chau street. This is home to sandals, sneakers, pumps, and shoes which cost from $8 to $10 USD only.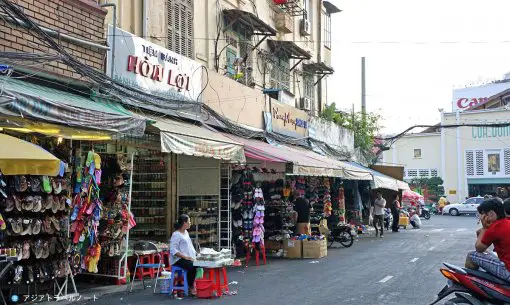 On Le Van Sy street, Phu Nhuan District, there are dozens of shoe stores sitting next to each other. The area in front of the Ba Chuong Cathedral has the best shops in my opinion.
Another street that is worth a visit is Ly Chinh Thang street in District 3. There are not as many shops as on other 4 streets but the stores here are very popular. They are located near the Western Australian International School System.
Ho Chi Minh City Shoe Boutiques
The shoe streets above are great for saving time since you'll definitely find something you like with so many options to choose from. However, for enthusiastic shoes lovers like me, I don't mind visiting a smaller shop to grab what I like even though it's far away from where I live.
Here are the most sought-after shoe boutiques that are always on the top of the list of Saigonese girls and guys!
There's one thing you should note down, the Vietnamese shoe sizes are smaller than the average foreigner shoe sizes. When you are interested in a brand or a store listed below, make sure you give them a call to double check whether they offer the right sizes you need or not. Otherwise you may leave the stores with disappointment. Your hotel concierge can really be helpful with small requests like this.
Boutique Shops for Women
Naga
Most of the loyal customers at Naga are millennials who are university students or office staff. Naga offers a wide range of models which are made of polyurethane. It's durable, modern, and convenient. These are ideal for a night out with your girls or for long days working in the office.
Another reason why Naga popular amongst the young locals in Saigon is that they offer online shopping. We can easily scan through their available items on Facebook or Instagram, which are daily updated, and place an order within just a few minutes. The shop itself is spacious, bright and all items are arranged neatly on each shelf.
Addresses:

154 Nguyen Thuong Hien street, Ward 4, District 3, Ho Chi Minh City

221/5 Le Van Sy Street, Ward 13, District 3, Ho Chi Minh City

Opening hours: 8:30 AM – 9 PM
Price range: 10.7 USD – 12.8 USD
Facebook:
Phone number: (+84)126.664.9635
Size range: 35 – 40
Juno
Juno is a famous domestic brand widely praised by its customers. As of now, there are 81 branches open across Vietnam. If you work in the office daily, then Juno is definitely a good brand to keep in mind. A majority of Juno collections are designed and dedicated to the modern female who require convenience, comfort and also an eye-pleasing design.
You can find a broad range of stylish footwear here at Juno, most of which are heels and stilettos. Flip flops and sandals are also available, yet they come in limited models and colors.
In terms of the price range, Juno is well-known for its affordable prices. The shoes come in around $5 to $34 USD. Other than footwear, the bags are the second most popular item here which falls in the same price range. I believe the price range is reasonable for as reputable of a brand as Juno.
The brand also offers a lot of promotions and deals all year round. Many of us locals register for Juno membership, which means we usually get good deals, especially during the member's birthday month with a 10% or 20% discount.
Regarding the quality, Juno never disappoints me. Some Juno items I've had at home for two years, and amazingly they last for quite some time even though I wear them often.
Addresses:

269D Nguyen Trai, District 1, Ho Chi Minh City

246D Xo Viet Nghe Tinh Street, Ward 21, Binh Thanh District, Ho Chi Minh City

360 Hai Ba Trung Street, District 1, Ho Chi Minh City

236K Le Van Sy Street, Ward 1, Tan Binh District, Ho Chi Minh City

313 Nguyen Thi Thap Street, District 7, Ho Chi Minh City

385b Cach Mang Thang Tam street, Ward 13, District 10, Ho Chi Minh City

483 Le Quang Dinh street, Ward 1, Go Vap District, Ho Chi Minh City

2 Nguyen Trai street, Ward 3, District 5, Ho Chi Minh City

Opening hours: 9 AM – 10 PM
Price range: $5  – $34 USD
Phone number: 18001162
Size range: 34 – 39
Vascara
This Brazil-based brand can be seen as a big competitor with Juno. Both Vascara and Juno target the same market – office ladies. However, this niche doesn't seem to stop Vascara from expanding its market. Their new collections include Vascara Bridal – feminine designs for the bride-to-be; Vascara Junior – modern and stylish models for the Millennials, Vascara Wide Fit – large-sized shoes and Vascara Leather – premium real leather.
All Vascara items come in a huge diversity in terms of colors, forms, and designs. Most of the shoes are offered around $17 to $25 USD, excellent in quality, and comfy to walk around in all day long.
Addresses:

35 Le Thanh Ton street, Ben Nghe Ward, District 1, Ho Chi Minh City

189A Cong Quynh street, Nguyen Cu Trinh Ward, District 1, Ho Chi Minh City

375 Nguyen Dinh Chieu street, Ward 5, District 3, Ho Chi Minh City

478 Cach Mang Thang Tam street, Ward 10, District 3, Ho Chi Minh City

58 Nguyen Trai street, Ward 3, District 5, Ho Chi Minh City

Opening hours: 8 AM – 10 PM
Price range: $17 – $25 USD
Phone number: 18006909
Size range: 35 – 39
The Nysmile
Nysmile has a big community of fans in Saigon since their products meet are diverse. Meeting the needs of ladies from office staff, feminine women, or young dynamic girls. NYsmile footwear is high-quality, eye-catching, and all of them come with a six-month guarantee. Plus, the staff here are super friendly and helpful.
Currently, blue and white sneakers are their best sellers. This is a great pick for sporty girls to wear to the gym or travel.
Addresses:

436/14 Cach Mang Thang Tam street, District 3, Ho Chi Minh City

120 Hoa Lan Street, Phu Nhuan District, Ho Chi Minh City

Opening hours: 9:30 AM – 9:30 PM
Price range: $6.44 – $17.18 USD
Phone number: (+84)932.197.167
Size range: 35 – 39
Boutique Shoe Shops in Ho Chi Minh City for Men
Men usually find it hard when going out to shop for shoes. Compared to women's, men's shoes may not be that diverse, both in design and stores to choose from. In this section, I'll be walking you through two options for two different styles: gentlemen bespoke and sports shoes.
Tailor-made Bespoke Shoemakers
CNES
CNES has been rocking the bespoke shoemaking industry in Vietnam since 1994 and is proudly praised as the grandest shoemaking brand in Vietnam. All pairs of shoes and accessories are finely crafted by a group of 150 "artisans" who bring 200 pairs of shoes to CNES stores each day. For over 20 years of producing shoes, CNES has introduced the technique of making shoes by the Vietnamese to more than 30 different world-class shoe brands worldwide.
The price of a bespoke pair at CNES is affordable. Which includes bonus bundled deals like a belt, shoe trees, and more. The items are also available in many sizes and forms. At CNES, they sketch your feet and design the blucher in anyway you like.
The procedure of making a bespoke product here takes around 20 to 30 days after you have your feet measured. International delivery service is available. All you need to do is to pay the total amount of your shoe price beforehand and pay for the shipping fee by COD – Cash On Delivery.
At CNES stores, ready-made shoes are available. In case you cannot find the right shoe size, then you can offer to have your bespoke shoes tailored accordingly. You may love to scan through their stocks online, but if you need to have one tailor-made, you are advised to visit the store and meet the staff in person.
Otherwise, make sure you make a call and talk to them directly so they know exactly how to make the right shoes for you. The process of making bespoke shoes requires a good sophistication and details. That's why a call or a visit is necessary.
Addresses:

43A Ba Thang Hai, Ward 11, District 10, Ho Chi Minh City

206 Le Lai street, Pham Ngu Lao Ward, District 1, Ho Chi Minh City

Takashimaya – Floor 3, 92-94 Nam Ky Khoi Nghia street, Ben Nghe Ward, District 1, Ho Chi Minh City

Opening hours: 9 AM – 9 PM
Price range: $172 – $386 USD
Fugashin
Fugashin bespoke shoes can be found in many big countries worldwide, such as Japan, Germany, France, Canada, Italy, Spain, and Australia. Each of their shoes are produced carefully with the construction of Mckay (Blake), Goodyear-welted, Hand-sewn Welted, Moccasin and so on. Fugashins leathers are high quality and imported from France, England, and Italy.
As a top bespoke shoemaker itself, Fugashin shoes come in a wide array of styles, price ranges, shoemaking techniques as well as models. Fugashin is highly respected in terms of quality and after-sales service. You will feel pleased when shopping at Fugashin as both the manager and sales rep are very enthusiastic and considerate in helping you choose the right shoes.
Addresses:

15 Vo Van Tan Street, Ward 6, District 3, Ho Chi Minh City

Takashimaya – Floor 3, 92-94 Nam Ky Khoi Nghia street, Ben Nghe Ward, District 1, Ho Chi Minh City

97 D1 street, Binh Thanh District, Ho Chi Minh City

Opening hours: 9 AM – 9 PM
Price range: $94.5 – $1.289 USD
ManGii
Mangii is another iconic brand offering "Made in Vietnam" bespoke shoes. The brand puts a lot of effort into studying Orthopedics and aesthetics in order to customize the right shoes for both Asians and Westerners. You will feel like a true gentleman during your shopping time here at ManGii as the staff is excellent and accommodating.
One disadvantage is that the majority of ManGii shoes are not modern. If you are a fan of the classic look, then ManGii is the right choice. If you seek a more inventive and cutting-edge style, then other brands are probably more suitable.
Address: 196 Le Thanh Ton street, Ben Thanh Ward, District 1, Ho Chi Minh City
Opening hours: 9 AM – 10 PM
Price range: $116 – $215 USD
Sports Shoes Stores
If you're looking for sports shoes, then look no further! These are the two recommend big local shops in Saigon:
G-Lab
G-Lab is certainly one of the most famous brands in Saigon respected by the young community and basketball players since they mainly offer basketball shoes of various brands. You can find many popular shoe brands at G-Lab such as Nike, Jordan or Adidas. The customer service at G-Lab is superb, as you'll be assisted in getting the best kicks for your money's worth. As mentioned, if you are an avid basketball player yourself, especially if you're a fan of the old-school era, you may get to love G-Lab even more.
Address: 135/58 Tran Hung Dao street, District 1, Ho Chi Minh City
Opening hours: 9 AM – 9 PM
Price range: $25.7 –  $730 USD
Phone number: (+84)945.378.809
Size range: 35.5 – 47
Sole Station
Founded by two passionate students in Saigon, Sole Station is the most sought-after shopping store for sneaker fans in the city. All items come in a huge assortment of  brands and categories, such as jogging, running, basketball, and even fashion shoes.
The price range at Sole Station is consistent over time, coming along with good customer service and high appeal; which makes Sole Station a remarkable destination for sneaker lovers.
Address: 140/30 Dang Van Ngu street, Ward 14, Phu Nhuan District, Ho Chi Minh City
Opening hours: 10 AM – 9:30 PM
Price range: $8.58 – $429.3 USD
Phone number: (+84)903.76.9545
Size range: 35 – 47
Ho Chi Minh Factory Outlet Shopping
Finding shoe outlets in Saigon is very popular, especially when the number of travelers stopping in Saigon has greatly emerged over the past few years. Here in this article, I've listed down four different well-known outlets and their branches where you can find Nike, Converse, Adidas, Dr. Martens and more.
Nike
Addresses:

327 Cong Hoa street, Ward 13, Tan Binh District, Ho Chi Minh City.

386 Hoang Dieu, Ward 5, District 4, Ho Chi Minh City.

Opening times: 10 AM – 9:30 PM.
Price range: 21.4 USD – 429.3 USD.
Phone number: (+84)2838.428.342
Size range:

36 – 39 for women and 40 – 45 for men.
Converse
Addresses:

219 Nguyen Thi Thap Street, Tan Phu Ward, District 7, Ho Chi Minh City.

96 Tran Quang Khai street, Tan Dinh Ward, District 1, Ho Chi Minh City.

Opening hours: 9 AM – 10 PM.
Price range: 13 USD – 85.82 USD.
Phone number: (+84)2835.262.637
Size range: 35 – 44.
Adidas
Addresses:

366 Cong Hoa street, Ward 13, Tan Binh District, Ho Chi Minh City.

Opening hours: 10 AM – 9:30 PM
Price range: 25 USD – 429.3 USD
Phone number: (+84)28 38.125.141
Size range:

36 – 40 for women and 39 – 46 for men
'Factory Outlet' Store in Ho Chi Minh City
Factory Outlet is home to various world-class brands such as Clarks, Dr. Martens, Goex, San Marcos and so on. You can also find multiple women and men footwear in different categories which include ballerina, slip-on, moccasin, and dockside. One thing to remember is that Factory Outlet has a limited offering of models for heels and stilettos.
Addresses:

52 Hoa Hong street, Ward 2, Phu Nhuan District, Ho Chi Minh City.

Phone number: (+84)768.999.978

212B/D90 Nguyen Trai streets, Nguyen Cư Trinh Ward, District 1, TP. Ho Chi Minh City

Opening hours: 8:30 AM – 10 PM
Price range: 11 USD – 86 USD
Phone number: (+84)902.868.768
Size range: 30 – 50.5
Most of them are genuine outlets, but please be mindful that they are not exactly cheap. The items here are mostly imported as they don't own any factories in Vietnam. Popular as it seems, not every outlet is offering authentic merchandise, which means you can spot some fakes out there. In case you happen to find one while shopping, it's best to use your own judgment to get your money's worth.
Football Shoe Shopping in Saigon
Last but not least, let's talk about where to find football shoes in Saigon. Most of the time, tourists visit the Nike Or Adidas franchise stores in a mall to find the football shoes they like. Things are a little different for the Saigonese, we have some famous local-known stores dedicated only to football fans. These are where we find our favorite football shoes and other related outfits and accessories.
Here are four of the best sought-after boutiques where you can buy good quality football shoes if you ever need to find some when traveling to Saigon. You will find many different brands of football shoes, including big brands such as Nike, Adidas, Puma, Warrior, Zara and the list goes on.
Thanh Hung Futsal
Address: 27 D52 Street, Ward 12, Tan Binh District, Ho Chi Minh City.
Price range: 47.4 USD – 121 USD
Opening hours: 9 AM – 8 PM
Phone number:  (+84)2838.429.720
Size range: 37 – 45
Shop Giay Da Banh
Address: 38 Nam Chau Street, Ward 11, Tan Binh District, Ho Chi Minh City
Price range: 56 USD – 258.5 USD
Opening hours: 9:30 AM – 8:40 PM (Mon – Sat) | 9:30 AM – 3:30 PM (Sun)
Phone number:

(+84)908.111.287

Size range: 29 – 48
Neymar Sport
Address: 57/1 Dien Bien Phu Street, Binh Thanh District, Ho Chi Minh City
Price range: 64.6 USD – 344.7 USD
Opening hours: 8:30 AM – 8 PM
Phone number: (+84)902.970.907
Size range: 28.5 – 48.5
Sport 1
Addresses:

63 Nguyen Thi Minh Khai Street, Pham Ngu Lao Ward, District 1, Ho Chi Minh City

273 – 275 Hai Ba Trung Street, District 1, Ho Chi Minh City

Price range: 56 USD – 181 USD
Opening hours: 8:00 AM – 9:30 PM
Phone number: (+84)903.624.466
Size range: 40 – 45 for men and 35 – 39 for women
With this comprehensive guide to buying shoes in Saigon, you now have no fears in finding the right place for your favorite kicks. Quickly bookmark our article right now and share it with your friends if you find it helpful!
Article Source Here: Ho Chi Minh City Shoes Shopping : An Ultimate in Depth Guide