13 Laws You Must Know Before Traveling to Vietnam
Did you know that you need a Visa for Vietnam? Did you also know that it's illegal to take photos of certain statues or famous places? It's not worth your vacation to be spoiled because you didn't know some crucial information about your destination. That's why this article is for anyone planning on traveling to Vietnam. While Vietnam is very open and friendly to travelers it's still a culturally conservative country with a few rules you should know and follow.
What is Illegal in Vietnam? Some things that are illegal in Vietnam include Gambling, Prostitution, Drug Use and Distribution, and Pornography. Vietnamese law is built based on the long-standing culture and the characteristics of the local Vietnamese lifestyle. It has enormous differences compared to other countries, especially European countries. As a second-year student in the Ho Chi Minh City University of Law, I will share with you some legal information to go more in depth to answer the question "What is Illegal in Vietnam?". Read on to discover my list of 13 Laws You Must Know Before Traveling to Vietnam.
 Places You Are Not Allowed to Take Photographs
Taking photos or videos on your phone is one of the easiest and best ways to keep beautiful scenes from your travels. What you need to know is that the photos or videos you take can get you involved in a prosecution. Some places I list below are areas where you should not take any photos or videos.
– Agencies, enterprises, construction sites, farms, forestry farms, and basic construction works

are considered a matter of national security.

You must get permission from the Head of the Committee or an Authorized Person in these locations if you want to shoot photos or videos.

– Areas with military bases, defense facilities, Military Drills, and military operations.

– The whole area of train stations, airports, ports, large irrigation works, bridges for trains and motor vehicles, and underground roads.

– Scientific and technical research institutes, power plants, water plants, power stations, large electric transformer stations, telegraph stations, radio stations, and radio stations.

– Photos taken from the plane above the territory of Vietnam. (spying)
One more thing to note is that the photos and videos taken must be developed into pictures before you take them out of Vietnam. If you violate the above, you will be confiscated all unauthorized movies, photos, and drawings. In the worst case, you may be prosecuted.
The common sense way to think about these rules, is that if you think that something is culturally sensitive or a national security matter. Don't take a photo of it.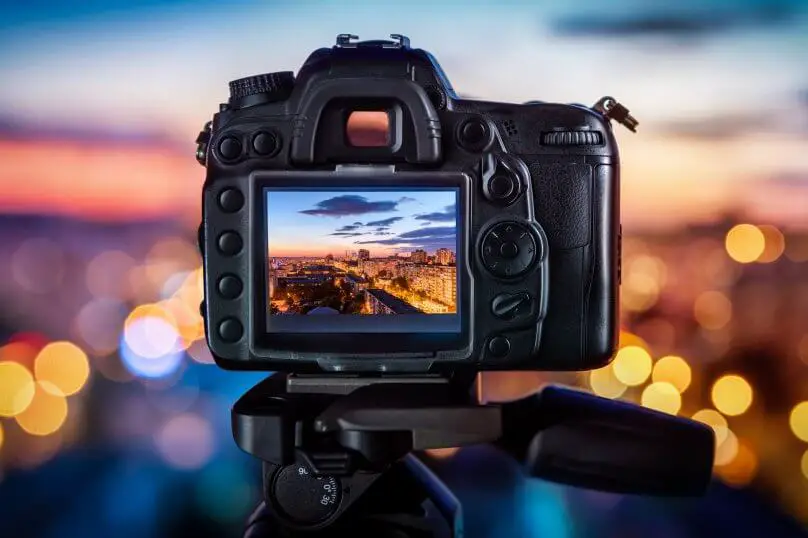 Crowd Control
I know that sometimes we can all get caught up in the moment of a large crowd. Football matches in Vietnam draw large crowds on our walking street Nguyen Hue for every major game. If the team wins, then we even have the "storm" where the crowd will shift around the city having fun and celebrating. This is legal and a lot of fun.
Sometimes there are crowds you should avoid while travelling in Vietnam. The crowds organized to protest are illegal by Vietnamese Law. These are acts of disrupting public order and against the government. The police will arrest anyone involved in this crowd whether they know the purpose of the crowd or not. Be aware and do not join in a crowd that you have no idea about it.
Anyone, including local people or foreign tourists who gather in public places causing social disorder, are subject to a fine. The fine is from 2,000,000 VND ($86.39) to 3,000,000 VND ($129.59).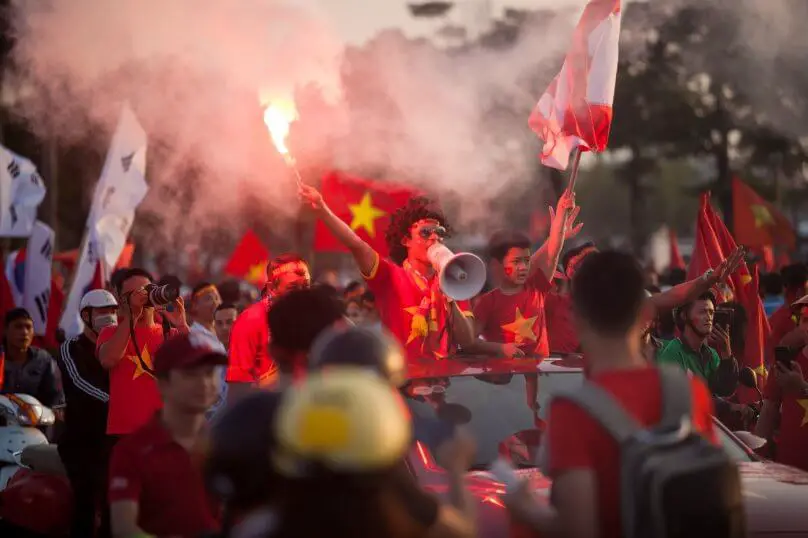 Driving in Vietnam
"If I don't have an International Driving Permit (IDP), can I drive in Vietnam legally?" This is the question of many travelers who want to experience driving a motorbike in Vietnam.
 For a National Driving Permit from your home country, you need to finish some procedures to change your NDP into the corresponding driving permit in Vietnam

before driving a motorbike in this country.

 For an International Driving Permit, a few travellers can drive in Vietnam without having to do any procedures. If your IDP is issued by a competent agency of the countries participating in the 1968 Vienna Convention. Also if the expiry date is still valid, and the type of vehicle you drive is specified in your IDP. Another thing to remember is that you need to bring both the IDP and the National Drivers Permit issued by your country while driving in Vietnam.
Up to now, 85 countries have signed the Vienna Convention such as the United Kingdom, Australia, France, Germany, Italy, Mexico, Republic of Korea, Spain, Sweden, Thailand, and Denmark. Please note that America and Australia are not on this list, if you are a tourist visiting from there, you need to change your NDP into the corresponding driving permit in Vietnam.
There are many differences when driving in Vietnam compared to other countries. The following are some rules you need to know when trying to drive here.
Do not carry more than two people on the same motorcycle

.

You are only allowed to carry three people in case one of them is a child under 14 years old.

Do not carry too many objects on a motorbike.

In Vietnam, people drive on the right side of the road.

Look Out and Get Out of the Way for these following Vehicles or Situations: Fire trucks, military vehicles, police vehicles for emergency tasks, ambulance vehicles performing emergency tasks, or funeral caravans  
 Drinking Age
In 2019, Vietnam still does not have specific regulations on what age you need to be to drink alcohol. However, in a new decree issued in 2017, the Government prohibits the behaviors of selling alcohol to customers under 18 years old.
This means that if you are at least 18 years old while travelling in Vietnam, you can legally drink and buy alcohol. Since the new decree only came out in 2017,  people younger than 18 are still able to find alcohol easily, but I always recommend obeying all Laws in Vietnam while traveling.
Vietnam Visa Laws
Is this the first time you have made a trip outside your own country? Vietnam is one of the destinations on your journey and you are still unfamiliar with the necessary documents for Entry and Exit? Well, this is what you need to know. If you are a professional traveler who has made countless cross-world flights, read on to make sure you don't forget some small but important points.
What you need to enter into Vietnam without any disruptions is a Visa and a Passport. In case your country has signed a Unilateral Visa Exemption Agreement with Vietnam, make sure your Passport term is at least 6 months from expiration and your last Exit from Vietnam is at least 30 days before expiration. Airport staff will hold you back from going to Vietnam even if your Passport doesn't expire for another 5 months and 29 days on the day you travel.
Up to now, Vietnam has been exempting Unilateral Visas for citizens of 13 countries including the Russian Federation, Japan, Korea, Norway, Finland, Denmark, Sweden, England, France, Germany, Spain, Italy, Belarus. These countries have been given a certain amount of time to travel in Vietnam without a Visa. Every country is different, so please check out our article filled with information about Vietnam Visas to learn more about your specific country and the Vietnam visa process.
On Exit through Vietnamese immigration you need a Passport, Certificate of Temporary Residence or Temporary Residence Card to leave Vietnam.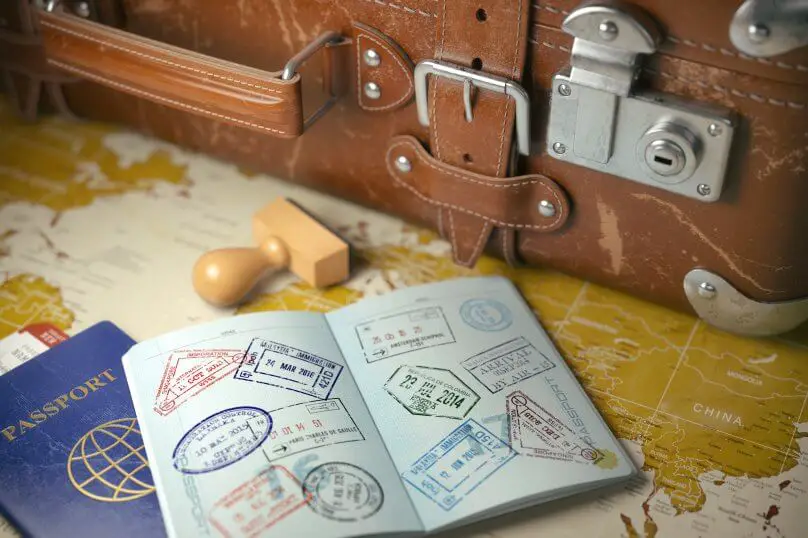 Leave Your Porn at Home
Maybe you are quite surprised when reading this title, right? Vietnam's Criminal Code has an article regulating penalties for spreading and disseminating unhealthy cultural products.
You can own newspapers and DVDs about sex, but keep it for yourself. Do not share it with others. Acts such as purchasing, storing, or transporting unhealthy cultural products aimed at distributing them to the public are considered criminal. If you have large amounts of pornographic materials in your luggage, Immigration may believe that you are trying to distribute these items. Ideally, you should not bring it with you on the trip to Vietnam. Another thing to note is that you shouldn't discuss these topics in public, Vietanamese are conservative in general and do not appreciate inappropriate topics in public places.
You will have to pay a fine of between 10,000,000 VND ($431.97) and 100,000,000 VND ($4319.67) or imprisonment for 6 months to 3 years if you violate this law.
Be Careful What You Say about the Vietnamese National Symbols
In order to be an independent country, Vietnam has experienced over 1000 years of colonization by invading countries. Every Vietnamese person never forgets the names of heroes who have fallen for their freedom. That's why they appreciate the peaceful life they are having and always respect national symbols. Any acts or words that are offensive to the National Flag, the National Emblem and the National Anthem will be considered as criminal. Therefore, be careful what you say about the national symbols. Don't make jokes about it, it can bring you serious consequences.
Article 351 of the 2015 Criminal Code stipulates penalties for this intentional offense which includes warning or imprisonment of 6 months to 3 years.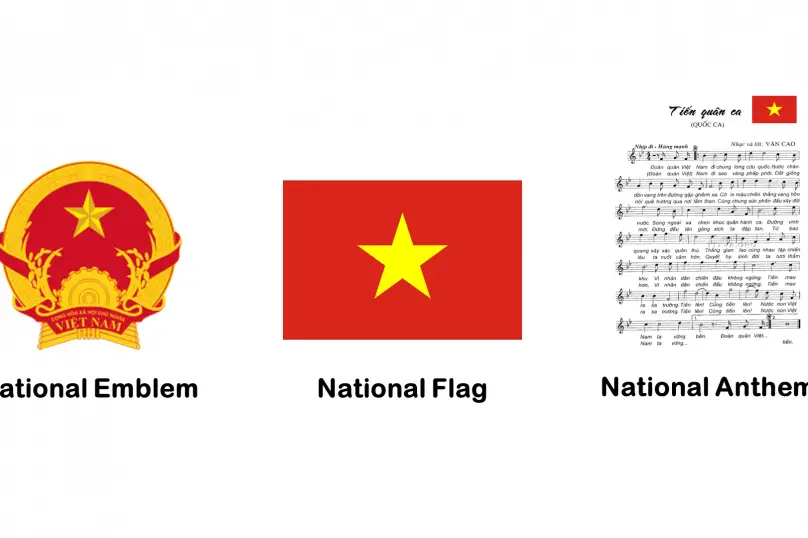 Gambling in Vietnam
Many people travel to certain destinations just for the thrill of gambling. They might be wondering about the question "Is Gambling in Vietnam Illegal?". Well Yes and No, Gambling as a Vietnamese local with a Vietnamese passport is illegal in Vietnam. With that being said, foreigners can gamble if they have a passport issued from a different country. There are a few casinos in Vietnam that have been created just for tourists on holiday.
I will give you a list of six major Casinos in Vietnam and some Legal Rules needed to follow if you don't want to incur a fine.
List of 6 Major Casinos in Vietnam
– Do Son Casino: – Hai Phong City – Since 1995
The first casino allowed to operate in Vietnam
Address: Zone 3, Doson District, Haiphong City, Vietnam

Phone number: (84) 0225 3864 888
– Ha Long Casino: – named Gaming Club – Since 2003
Address: Ha Long Street, Bai Chay Ward, Ha Long City, Vietnam

Phone number: +(84-203) 3635 658 / +(84-203) 3847 209
– Ho Tram Strip Casino: – Ba Ria – Vung Tau- Since 2013
Belongs to The Grand Ho Tram Strip Tourist Resort
Address: Coastal, Phuoc Thuan, Xuyen Moc, Ba Ria – Vung Tau

Phone number: +84 254 378 8022
– Casino of Aristo International Hotel: located in the center of Lao Cai city. Belongs to Donaco group (Australia)
– Club Crowne International: located in Silver Shores International Resort on Bac My An beach (south of resort Furama) in Da Nang.
Start to operate on December 23, 2009
Address: Crowne Plaza Danang, 8 Son Tra Dien Ngoc, Da Nang, Vietnam

Phone number: +84 5 11391 8888
– Phoenix Club Bac Ninh: located in Phuong Hoang International Resort & Recreation – Phoenix Resort Bac Ninh, is about a 45-minute drive from Hanoi City and Noi Bai International Airport.
Address: Phao Thu Hill, Zone 6, Ward Dap Cau, Bac Ninh Province, Bac Ninh City

Phone number: 0222 3871 868
What Conditions do I Need to Meet to be Allowed to Gamble at Casinos in Vietnam?
The following two conditions are required to enter into any Casino in Vietnam legally:
Have a Foreign Issued Passport

Minimum 18 years of age
**If you do not have your passport, you will not be allowed into a casino**
The Rules You Need to Follow
After the conditions to be allowed to gamble legally in Vietnam, you need to follow the rules below during the process of gambling at Casinos:
Bringing documents to prove that you have met the necessary conditions above(Bring your passport)

Comply with the Game Rules, Internal Rules, Regulations of the Relevant    Internal Management of Enterprise and Fulfill all Tax Obligations to the State

Do not use the results of prize-winning games at Casinos to bet directly with each other

Do not cause loss of security, social order, and safety at Casinos
Penalties for Violating The Rules
Warning for non-compliance with Game Rules, Casino rules, Internal Management Rules of Casino

A fine of between 20,000,000 VND ($863.93) and 30,000,000 VND ($1295.90) for acts of causing security, social order and safety at the Casino

A fine of between 90,000,000 VND ($3887.70) and 100,000,000 VND ($4319.67) for acts of fraud in the process of participating in prize-winning games at the Casino and being forced to return illegal profits

 
If I find Antiques, Can I bring it back with me?
On your trip in Da Nang, Hoi An, or some places famous for its long history, if you're super lucky, you may suddenly find an antique of 100 years old. Do you want to bring it home and display it in your living room? It will be very beautiful! But I have bad news for you, you are not allowed to bring those beautiful antiques out of Vietnam.
Law on Cultural Heritage stipulates that all antiques found in Vietnamese territory are owned by the public of Vietnam. What you have to do when you find an antique is to report it and hand it over to the competent state authority in the area nearest to you. As a reward for having found it, the Ministry of Culture will have a bonus for you. In situation, you really want to own or take it home, ask the state authority to know more information about the necessary conditions and procedures.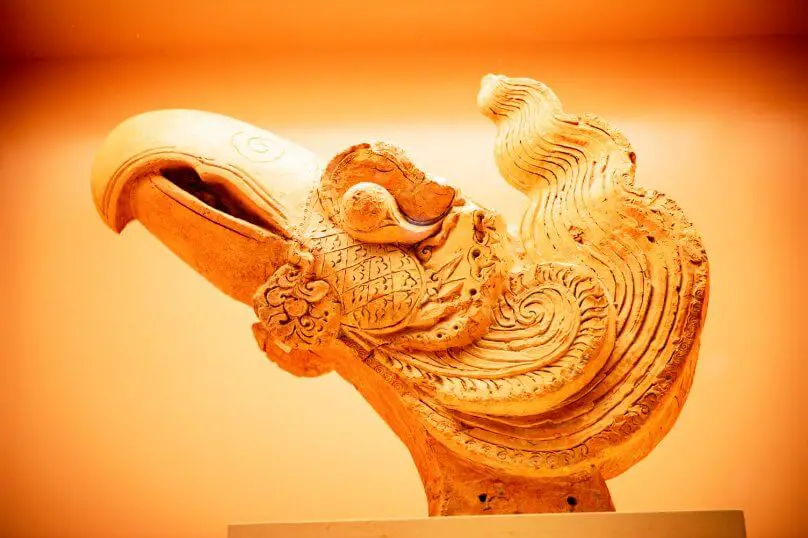 What to Leave Behind in Vietnam
Flammable materials, explosives, knives, guns or other potentially injurious items are things you should not bring on your way out. Especially guns, it is illegal in Vietnam. You will even have to be sentenced to 7 years in prison if someone finds a gun in your bag (but I think it is very rare, no one wants to carry a gun on their vacation). Any potentially dangerous items will give you trouble if you are caught in possession with them.
I know what you are thinking? Why the hell would I have any of these things and try to leave Vietnam with them? Here is a small example of something that is innocent in nature and sometimes overlooked by travellers. I'm referring to the bullet casing from the AK 47 used at the Cu Chi Tunnels, many travellers would like to take this home as a souvenir but are stopped from leaving the country with it.
Things You are Not Allowed to Post on Social Media
"I have the right to post anything I want on social media. That's my freedom." On January 1, 2019, this statement is no longer true. That is the date when the Network Security Code came into effect in Vietnam. The government wants to make sure that people will use social media positively and avoid hurting anyone or national security issues. The following are the things you should be careful when posting them on social media in Vietnam:
History, Religion, Racism, and Sexismg

Issues related to Vietnam's politics and social order

False information, statements that can offend other people's honor and dignity

Acts to incite people to commit crimes and reactionary 
If You See Ladies of the Night Canvassing for Customers, Just Leave
Prostitution is absolutely illegal in Vietnam. Sometimes while walking on the road at night, you might see some ladies looking for customers. At some karaoke and bars, you may receive an invitation from the people trading in this type of service. What you need to do is say No and leave immediately. Vietnamese law prohibits acts related to prostitution. I will provide some legal information about prostitution to prove what I just said.
The act of sex between men and women or between people of the same sex for other material benefits is considered prostitution in Vietnam.
 Legal Provisions on Acts of Buying Sex
If committing acts of Buying Sex, both foreigners and locals suffer from the following sanctions:
 A fine of between 500,000 VND ($21.60) and 1,000,000 VND ($43.20) for acts of buying sex

 In case of buying sex with many people at the same time, they will be fined from 2,000,000 VND ($86.39) to 5,000,000 VND ($215.98)

 In case of enticing or coercing other people to buy sex, they shall be fined from 5,000,000 VND ($215.98) to 10,000,000 VND ($431.97)
Acts of Buying Sex with more aggravating circumstances such as buying sex for adolescents or knowing that they are infected with HIV and still deliberately spreading it to sex workers will be considered criminal and suffer penalties under the Vietnamese Criminal Code.
Drugs, Shisha, Funky Balls and more things you need to know
Vietnam and many countries in the world have listed drugs on their list of banned substances. According to the Criminal Code 2015, drugs include:
 Opium resin, marijuana resin or cocaine resin

 Heroine, cocaine, Methamphetamine, Amphetamine, MDMA

 Leaves, roots, stems, branches, flowers, marijuana fruit or coca leaves

 Dried poppy fruit and fresh opium fruit

 Other narcotic substances in solid and liquid form
All acts of buying, selling, storing or producing the things listed above will be treated as criminal and subject to severe penalties.
There are many other types of stimulants that are harmful to health but are not included in the cases mentioned above, specifically Funky Balls (Balloons) and Shisha. Since they are not Drugs, when you arrive in Vietnam, you can easily find many luxurious cafes, bars, karaoke and restaurants selling these two stimulants. Is It Illegal to Use Funky Balls and Shisha? I'm gonna go into the details of each one so you can get the answer to this question.
Is It Illegal to Huff Balloons?
Funky Balls are balloons pumped with gas. This gas is a chemical formula of N2O (Dinitrogen monoxide or nitrous oxide). When inhaling this gas, it can exert a strong impact on a point of the amusing nervous system to create a sense of euphoria for the user.
Currently, there is no specific law stipulating that the use of Funky Balls is illegal. But the use and sale of them is still dangerous.
– Funky Balls are harmful for the health of users. The regular use of N2O gas can cause disorders such as the stinging sensation in the head followed by staggering; chromatic disorders; memory disorders; sleep disorders; arrhythmias and hypotension; anemia and deficiency of B12. Prolonged use of N2O gas is not recommended.
How about Shisha?
Tobacco has been sold on the streets of Vietnam for many years, you can often see old men or women using this tobacco in long wooden pipes throughout Vietnam. Shisha Tobacco is still a bit new in Vietnam in comparison to our pipe tobacco. Shisha is tobacco leaves with added honey or fruit flavorings such as grapes, oranges, apples, and strawberries. This type of tobacco is not on the prohibited list. In the past, Shisha was only found in discos and bars so the recent popularity is new and lawmakers have not yet made a formal decree on Shisha smoking.
Shisha is not included in the group of drugs and is not included in the list of goods banned from business stipulated in Decree 59/2006/ND-CP. That's why it's not banned from selling. If meeting the conditions, people can still be licensed to trade in Shisha. However, this is also a commodity that is not supported by the state and may be restricted or banned in the future.
In conclusion, the current law does not have a specific law that prohibits the use of Shisha. On the other hand, you need to know that the state doesn't encourage it. To handle the question "Is It Illegal to Use Shisha?" my answer is No. In my opinion, the government will not be creating regulation against Shisha use in the future.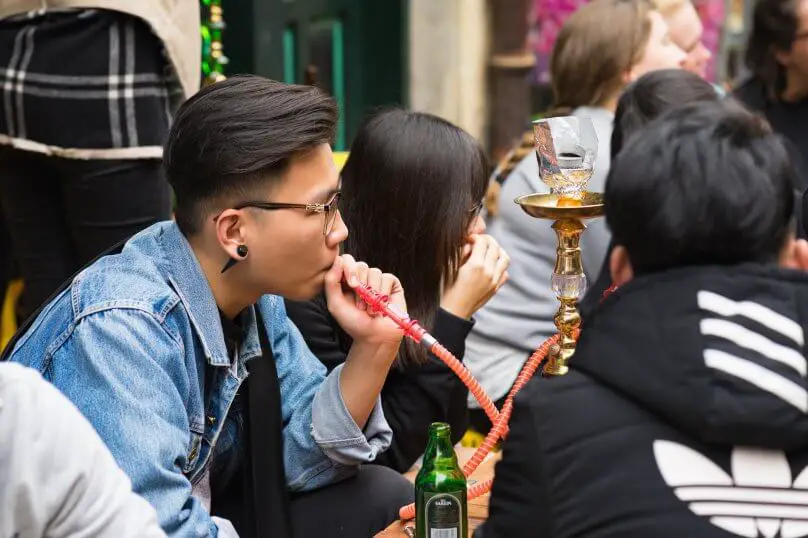 Source Here: What is illegal in Vietnam? Rules and Laws for Tourists