Smoking isn't cool but riding the mist is! While vaping has gradually competed with traditional cigarettes in many countries worldwide, it is now facing a new obstacle: vaping while traveling. Nowadays, vaping is banned in many Asian countries like Thailand and Singapore, but is it the same state of affair in Vietnam?
Thankfully, Yes, you can vape in Vietnam legally! You can freely vape in public when travelling to Vietnam, and you can even purchase a new vaporizer or oil in a shop. However, let's read more to know the stance of the Vietnamese authorities about this "cloud chasing game", and also where to find the best vape shops in the most popular destinations throughout Vietnam.
Does the Vietnamese Government Ban Vaping in the Country?
As a matter of fact, the Vietnamese Government has been struggling with chooing to either outlaw or legalize vaping in the country. You can tell that vaping is not illegal by easily spotting out people vaping on the streets in big cities, such as Hanoi and Saigon. There's no discrimination against this action from other people around or even the police.
According to Chu Xuan Kien, Head of the Market Management Department under the Ministry of Industry and Trade, the case of e-cigarettes and vape is tricky as it's unclear whether those devices should be treated by law enforcement as traditional cigarettes or not. Other than that, Kien also stated that there were no specific rules against vaping in Vietnam that was introduced.
This brings hope to the vaping industry in Vietnam which has just taken off for several years now. Literally, you can search for several vape shops online in the big cities where could you travel to, and visit them to grab some juices on the spot. Just so you know, these shops are totally legal in what they are selling, so there are no concerns if you want to purchase vaporizers or juice in Vietnam.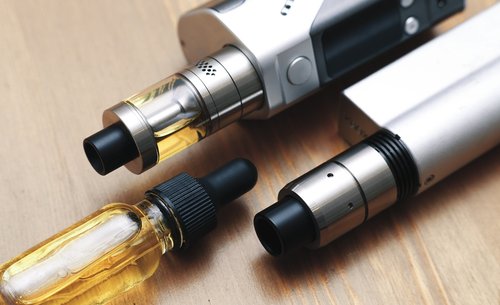 Where Can You Vape in Vietnam?
You can vape either inside a vape shop or even on the streets! There's no rules or sanctions with vaping just like I have mentioned above, however, please be mindful that vaping in public is still somehow affecting other people around you, especially in places where there are kids, pregnant people or the elderly. Which means even though vaping is not against the law, social etiquette is still a big consideration you may want to pay attention to.
I'll let you in on a little secret: vaping is extremely popular in the backpacker areas such as Ta Hien Street in Hanoi and Bui Vien Street in Saigon, just to name a few.
Therefore, if you don't want to ride the mist all alone, then don't hesitate to come over to these areas, join the crowd and make some local friends as well.
Can You Bring Vape on the Airplane in Vietnam?
The answer is yes, as long as you agree to comply with the airline's carriage conditions. As of the moment, Vietnam Airlines, Vietjet Air, Jetstar and Bamboo Airway have not yet introduced any regulation listing vape as a dangerous or restricted item.
However, since vape is formed by various different segments, such as the rechargeable lithium-ion batteries and the nicotine filled e-juices, you should take care on how to properly handle and store these when travelling.
How to Fly with Your Vape?
First, you need to put your juice in your check-in baggage while the battery in your hand luggage. As you may be aware, the vape is still an electronic device by itself, so it should be treated like any other electronic gadgets in your baggage, such as a laptop, smartphone, iPad and so on. Hence, all of the batteries, chargers and cable wires needs to be kept separately in their own plastic bags.

Second, detach every single part of the device, put them into separate transparent bags and display them outside of your hand baggage when you are being processed for the security check. One thing you should bear in mind about the juice is that it should be stored in the same bag with your other liquids like shampoo or sunscreen. The limit for liquids is 100 millimeters per container and not more than 1 liter in total. Meanwhile, the vapor atomizer should be put in another transparent plastic bag without any liquid stored inside.

Last but not the least, don't forget about the fact that the vape juice can leak at any time during the flight, which is usually caused during the change in pressure. Any kind of liquid has a big chance of leaking and the vape juice is definitely one of them. That is the reason why the juice should always be kept in a different well-covered bottle and not in your atomizer.
If you take note of the tips mentioned above, this will surely smoothen your security check and hence help you stay away from unwanted situations. One of which could be the vape raising doubts to the security personnel and he or she may request you to open your bags wide for a double check!
If the security happens to ask you whether you have any E-devices along, then the best answer is always to declare that you have a vape in your bag and you're ready to show them if needed.
One option you should consider when traveling from place to place is to look for a single-use e-cig to use during your travel. These disposable vaporizer usually look similar to analogue cigarettes and has been designed for ease of use, storage and if needed, disposal.
Depending on which airline you are taking, different policies for vapes can vary. You should closely check with your airline operators or scan through their luggage conditions on their website before deciding to put the electronic device into your luggage.
Where to Get Vape in Vietnam: Hanoi, Hoi An, and Ho Chi Minh City?
As mentioned, vaping is allowed in all regions across Vietnam. This has slightly raised the vape industry and turned it into a big culture here. In the most popular cities such as Hanoi in the North, Ho Chi Minh City in the South and Hoi An in Central Vietnam, there exist multiple popular vape shops that are highly praised by the locals. Let's take a look!
In Hanoi
The Vape Club – 63 To Hien Thanh, Hai Ba Trung District, Hanoi.
The Vape Hanoi – 6 Nha Chung, Hang Trong, Hoan Kiem, Hanoi.
The Vapist Premium Vape Store – 137 Trieu Viet Vuong, Bui Thi Xuan, Hai Ba Trung, Hanoi.
In Ho Chi Minh City – Saigon
MD Vapor – 205 Tran Huy Lieu, Ward 8, Phu Nhuan District, Ho Chi Minh City.
Vape Saigon – 4B Tran Hung Dao, District 1, Ho Chi Minh City.
Vape Revolution Vietnam – 43 Co Bac, District 1, Ho Chi Minh City.
World Vape Shop – 150/34 Nguyen Trai, Ben Thanh Ward, District 1, Ho Chi Minh City.
E.C Workshop – Vape & E-Juice – 12/7 Nguyen Thi Minh Khai, District 1, Ho Chi Minh City.
Pexiga Vietvape – 57 Phan Dinh Phung, Ward 17, Phu Nhuan District, Ho Chi Minh City | 27 Nguyen Huu Tho, Tan Hung, District 7, Ho Chi Minh City.
In Hoi An
Rin Vape Shop – Floor 2, 236 Ly Thuong Kiet, Cam Chau, Hoian, Quang Nam.
Shop Vape and Juice – 561/7 Hai Ba Trung, Cam Pho, Hoian, Quang Nam.
Now that you know vaping is allowed in Vietnam, feel free to bring your vape along without further concerns. If this article helps you answer all of your questions about vaping in Vietnam, then don't forget to share it with your friends!
Learn More Here: Can You Vape in Vietnam? : Full Guide to Vaping in Vietnam 2019